Would you like to learn how to 37x your health, well-being, and lifestyle in 12 months, simply by focusing on building by 1% a day?
Seems more achievable than a 30-day sprint, 8-week immersion or 16-week program, right? After working in the health and wellness industry for over 15 years, I have learned that the Boom/Bust approach doesn't create a sustainable lifestyle change. The power of small and focus on ONE thing at a time, building into the next ONE thing is a simple way to create lasting change from within.
An 8-Step Simple Pathway
If you were to join us for 8 days of self-empowered change, supported by a community of like-minded individuals  It would look a little something like this.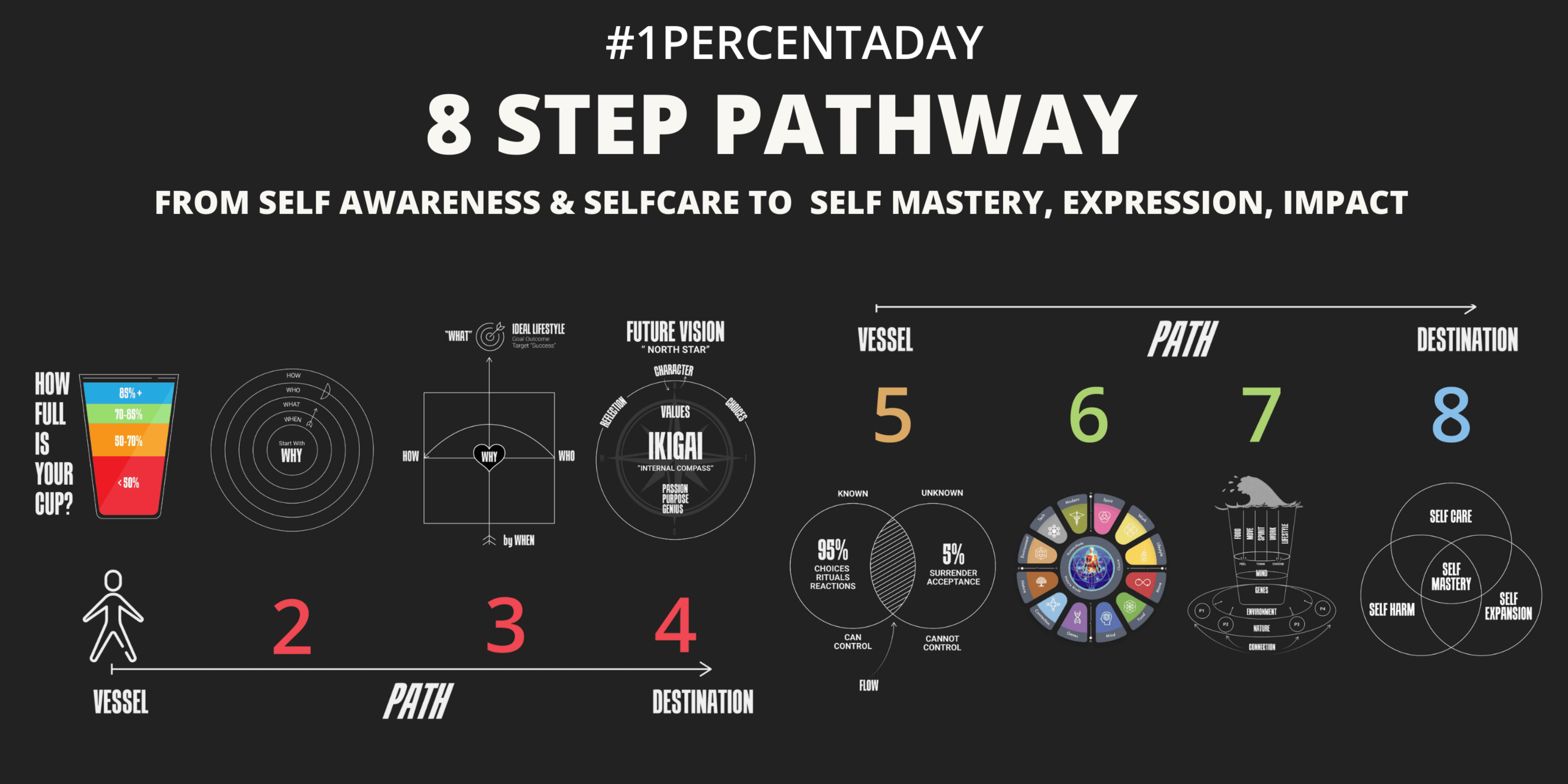 These 8 steps are the reason this book and platform are here. If I was to distill the last 8 years of my journey into 8 simple steps, it would be this.
It's OK if it takes you 8 days, 15 days, or even a month to complete the 8 steps. Just commit to finishing in your own flow. However, simply do ONE day, one step at a time.
There is No pressure, just commit to finishing :)These 8 steps, the small pivot 8 years ago, is the reason this is here.
8 STEPS TOGETHER, EVERYONE STARTS HERE
1. VISION: Let's focus on the solutions in plain sight and a common vision.
2. WHY: Start with your why, and inspire future vision & True North
3. WHAT BY WHEN: Create a personal and meaningful goal:
4. VALUES & PASSIONS: Align your internal compass with your True North
5. SELF HARM Choose your normal and find a balance of healthy moderation
6. SELFCARE: Embody the 12 Lifestyle Medicines
7. FiILLYOURCUP each day and serve from the overflow
8. SELF MASTERY, focus on the power of small, and 1% growth per day
---
4-STEP Lifestyle Mastery FORMULA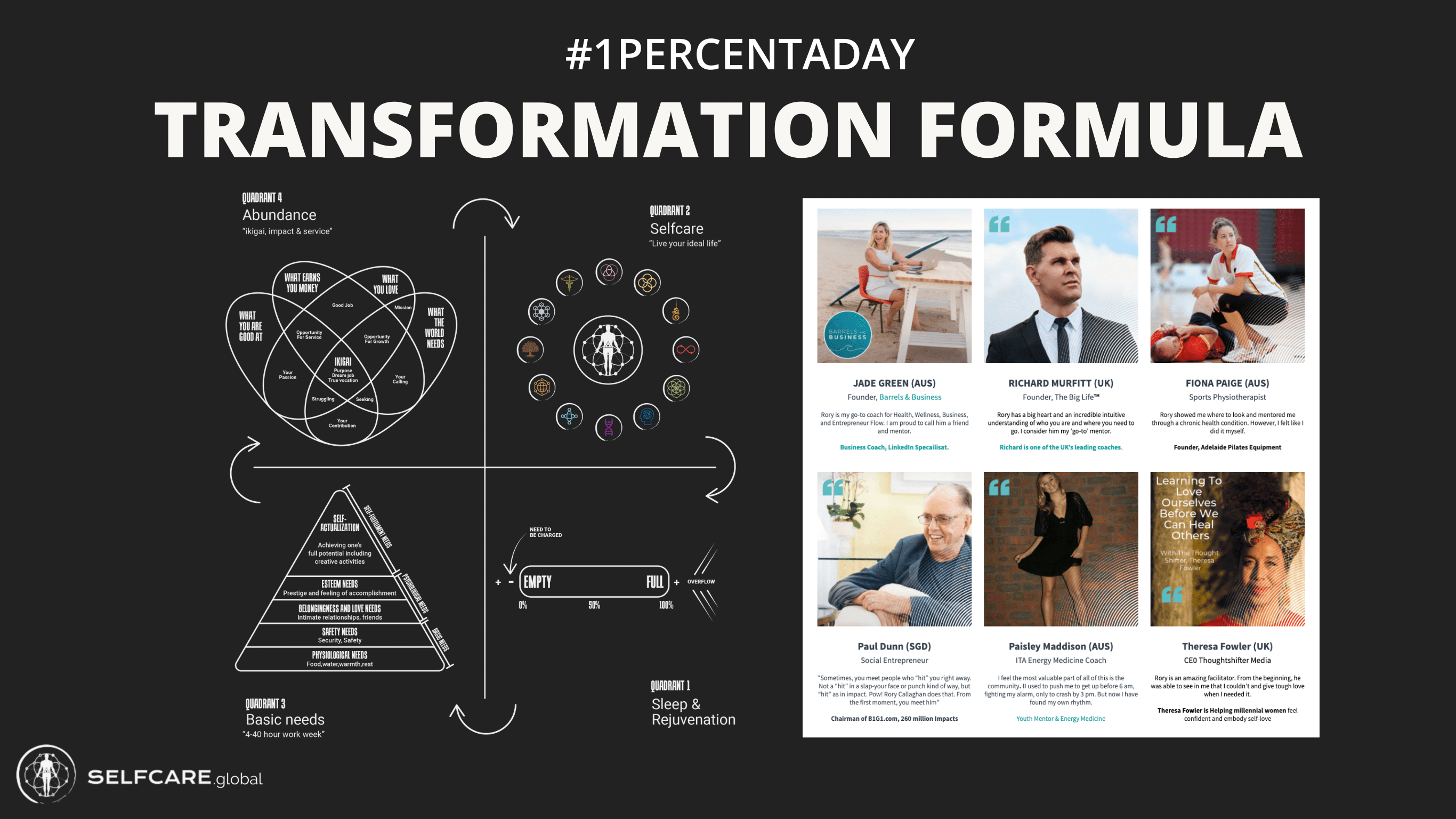 Our learning philosophy is simple.
LEARN ~ DO ~ EMBODY ~ BE
1. SELF-AWARENESS: LEARN / HOW TO FILL YOUR OWN CUP
2. SELF EXPANSION: DO / GROW BY 1% PER DAY
3. SELF MASTERY: EMBODY / DAILY HABITS & RITUALS
4. SELF-EXPRESSION: BE / SHARE / EXPRESS YOURSELF
---
THE END IN MIND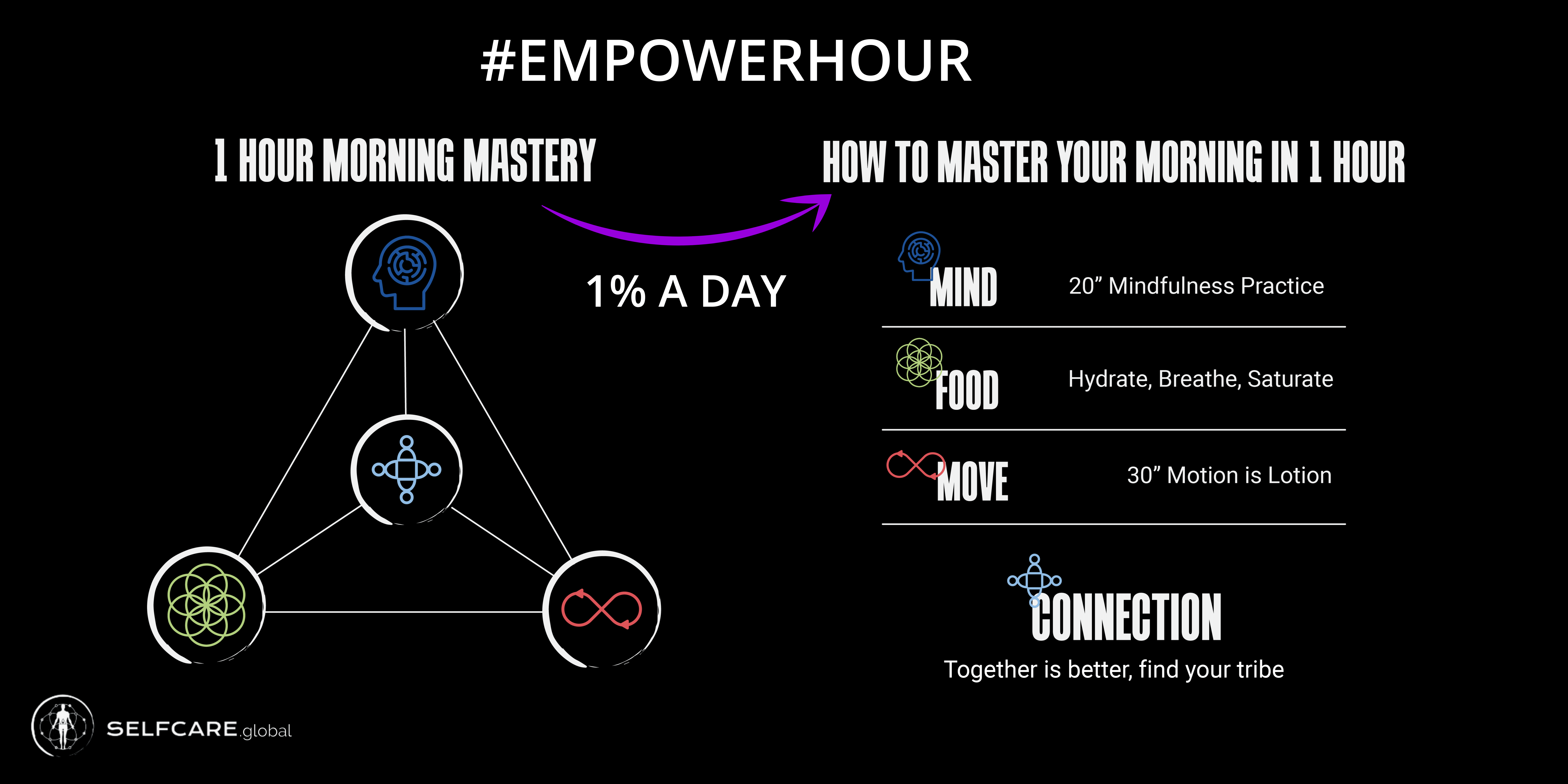 FOCUS ON THE POWER OF SMALL
YOUR DAILY 1% #EMPOWERHOUR

At the end of this course, you will have a 30-60 minute morning routine, by your own standards, that will get you moving forward by just 1% a day.
---
HOW THE COURSE FLOWS
EASY AS 1,2,3.....LEARN > DO > SHARE
1. LEARN - Watch the Video
2. DO - Complete quizzes, tools, and assessments
3. SHARE - One thing from each day in COMMENTS
4TH "BONUS" PART is "LEARN MORE"
For those that want to LEARN MORE, there is an optional 4th step on each day with a MENTOR. If not, just press "next"!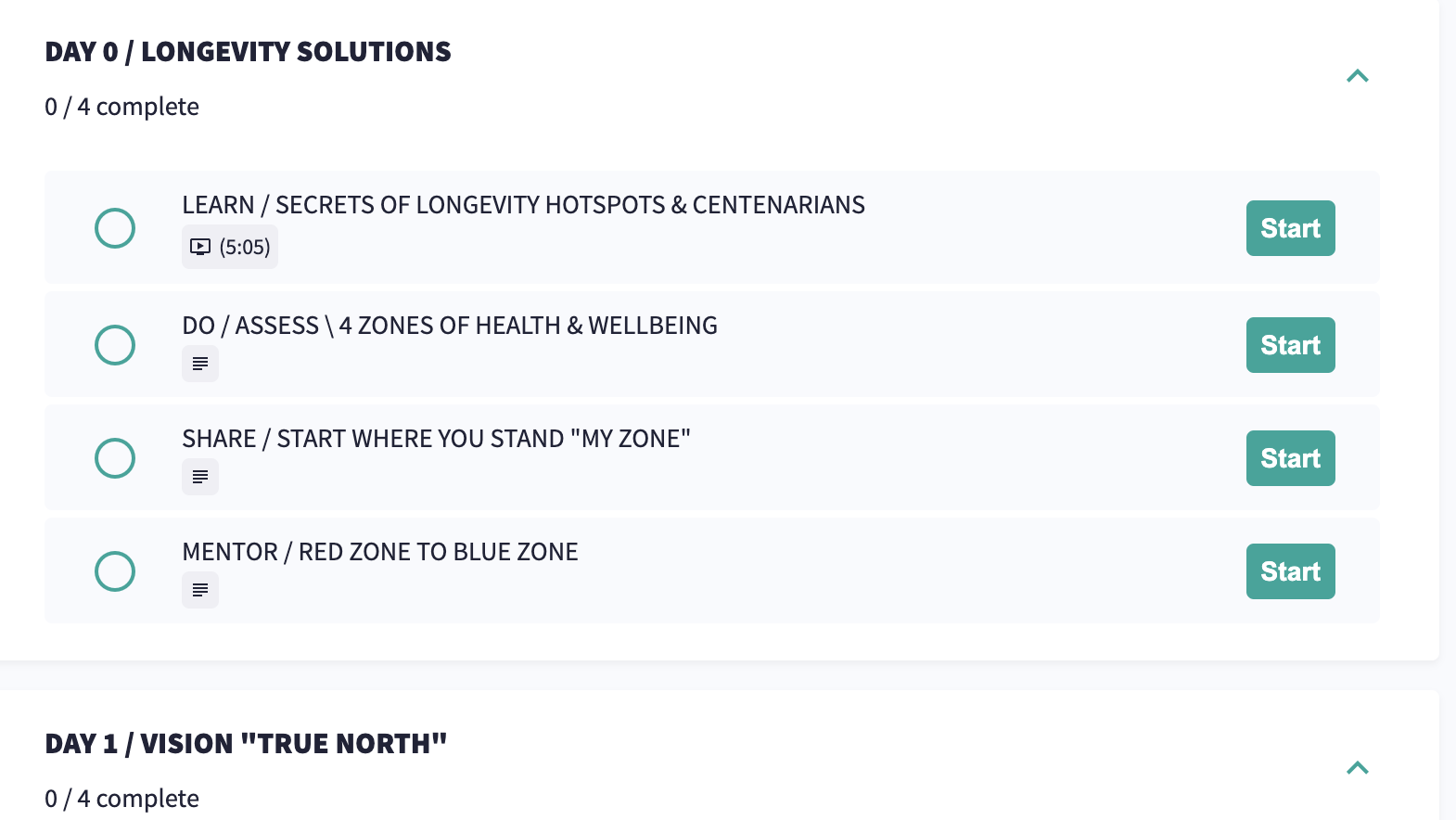 ---
SUMMARY
We don't believe in quick, fixes, gurus, or silver bullets. Just you vs you. And, please don't fear failure. We either win or learn. You only fail if you don't try and by being here already, you are already in motion. So let's go!
TRUST the process, It doesn't sound like a lot, but in 12 months' time, you will be 37x ahead of where you are right now and will have grown 3700% in the right direction. It's not about speed, it's about direction.
---
OK, ARE YOU READY?
FIRST ACTION STEP. Schedule, YOU, in your 168-hour week! :
Enrol in the EMPOWER course below.
Eg. Even the busiest person can put an hour in their calendar for themselves each day.  We all have 168 hours a week, prioritize 7 hours for you. Sounds simple when I put it that way, huh?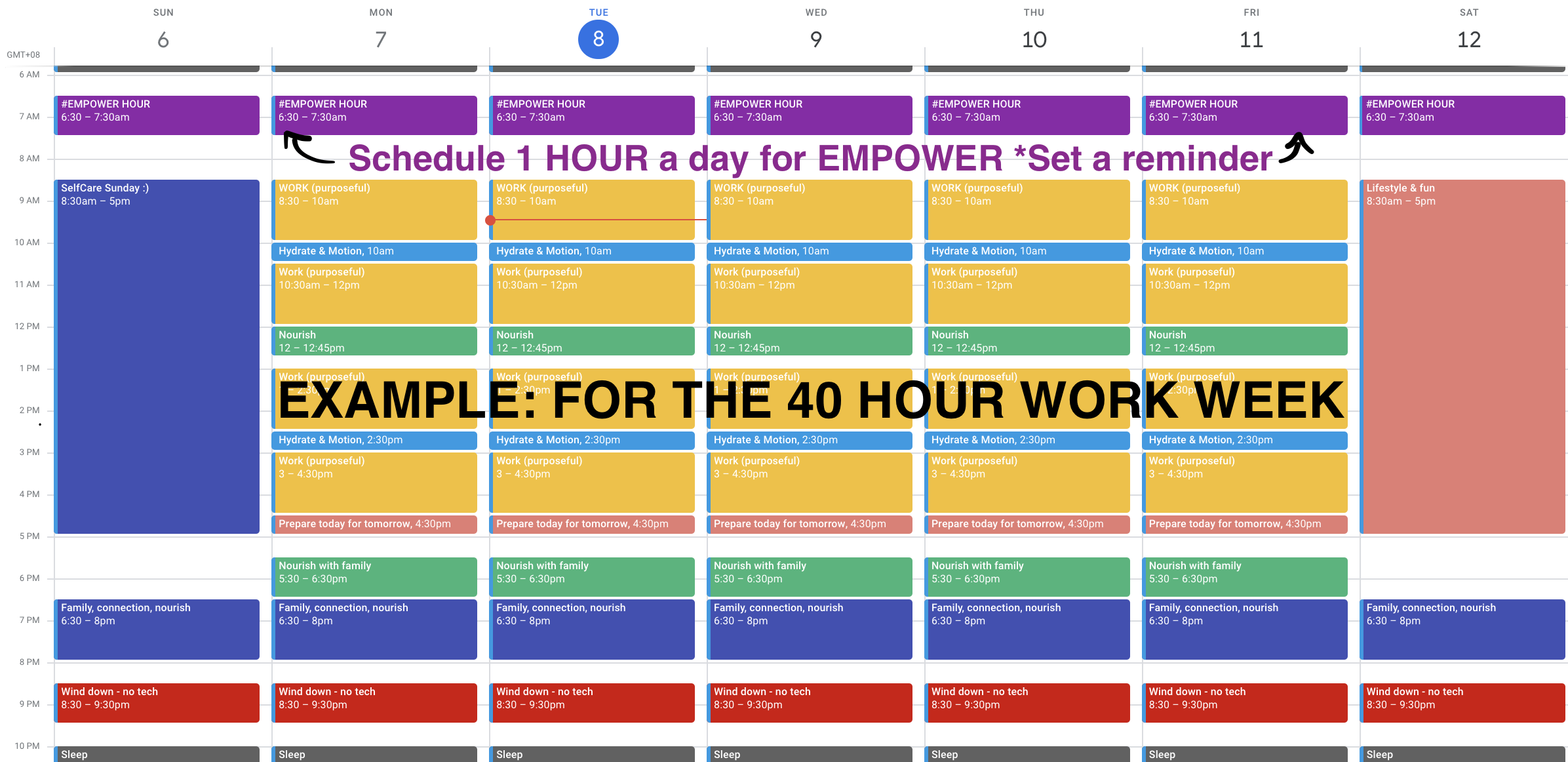 When you start winning your morning, you will start winning each day.
REFERENCES
This is directly referenced from the best-selling amazon SelfCare Book "Lifestyle Medicine For the People" by Rory Callaghan.  If you would like to read more content like this. Grab the free online chapters of the book or a hard copy.
We have done our best to reference everyone's expert opinions, peer-reviewed science, and original thoughts, all references available here and referenced in the text.
We also understand that most thoughts are not our own and there is a collective unconsciousness, unconsciousness, and universal mind stream of energy that is always at work.  How are references are sorted and filtered is here