"We are here to awaken from our illusion of separateness. The true self is non-self, the awareness that the self is made only of non-self elements. There's no separation between self and other, and everything is interconnected. Once you are aware of that you are no longer caught in the idea that you are a separate entity." — Thich Nhat Hanh —
HOW DO I KNOW IF I'M PART OF THE 8 PERCENT?
Simply by having access to this book, phone, computer or blog to read, you belong to a minority group. In fact, if you can read you are luckier than over one-billion people who cannot read at all.
If you woke up this morning with more health than illness, then you are luckier than the million who will not survive this week. Luckier than the 4 billion people living with a chronic preventable non-communicable disease, and even luckier because you have a provincial healthcare card that guarantees you will have a care in case of illness.
If you have never experienced the danger of battle, the loneliness of imprisonment, the agony of torture, or the pangs of starvation...then you are ahead of 500 million people in the world.
If you can attend any meeting you want—political, religious, social...then you are luckier than 3 billion people in the world.
If you have food in the refrigerator, clothes on your back, a roof over your head and a place to sleep...then you are more abundant than 75 percent of this world.
If you have money in the bank, in your wallet, and spare change in a dish someplace...then you are among the top eight per cent of the world's abundant population.1 With this in mind, let's begin with a grateful heart.
BY THE WAY, YOU HAVE ALREADY HAD AN IMPACT!
By purchasing the SelfCare Book or reading this blog, you are part of the top 8 per cent of the world.
I personally thank you. I believe that it is our duty to go first, to take advantage of the abundant opportunities in front of us so that we can reach out and support the 92% who may never have access to this same opportunity.
I believe in circular and shared economies, and as a result of your purchasing this book, you have already created a ripple effect of change for people in the world who do not share this luxury.
HELP US IMPACT 1 BILLION LIVES! 1 in 8 People!
You made a choice to purchase the SelfCare book or take any of our courses.  Here is the ripple effect you created. 11% of the gross profits from each book go to:
5%—Local community projects
6%— National & Global community projects
OUR LIVE IMPACT METER - KEEP US ACCOUNTABLE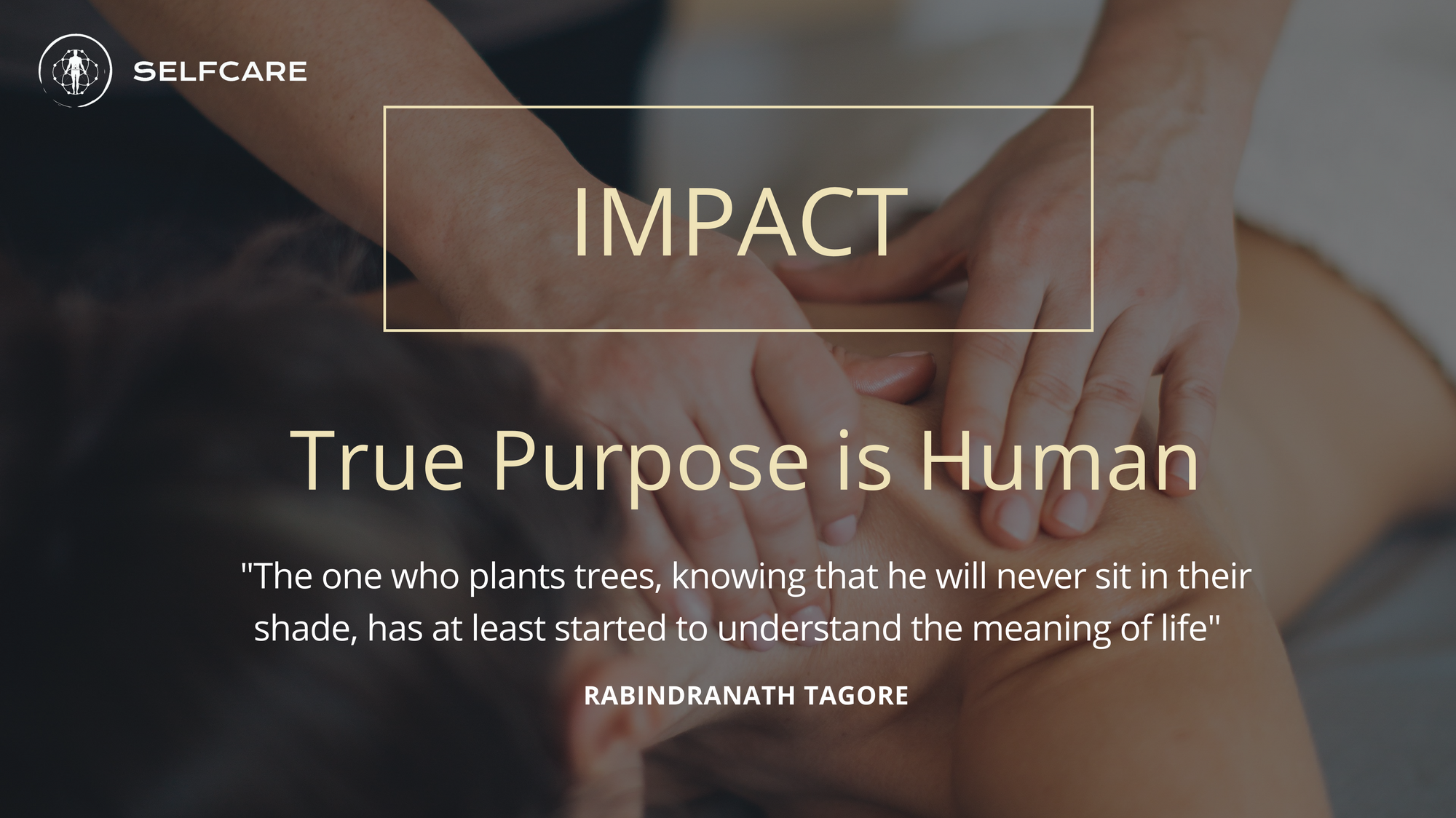 The other 89% will help us continue to build the lifestyle Medicine Revolution, reminding people that SelfCare is not selfish. All whilst co-creating global Blue Zone communities, starting where we each stand. We can all start local and impact global, together!
FILL YOUR OWN CUP FIRST
Although the royalties of the SelfCare book is essentially for impact, it's important to state before reading this that self-care is not selfish. Filling your own cup, and putting your oxygen mask on first is necessary in order to create lasting global change. You'll see this "Fill Your Own Cup" theme pop up throughout the book as a pleasant reminder that you matter. It's only if you take care of yourself first that you can take care of others.
Now, I know this can be a big pivot for some people, many mothers for example. But if you keep pouring and pouring—eventually you end up empty, with no vitality. As the saying goes, "You can't pour from an empty cup."
Let's use the simple diagram of a cup to get the picture (you being the cup of course).
SERVE FROM ABUNDANT OVERFLOW
Our aim in the SelfCare book and Ecosystem is to get you here!
Full but with overflow. If you're full of life and vitality and joy, then this naturally brims over and allows you to serve others from your overflow. Make sense? Good!
GLOBAL IMPACT REQUIRES MORE CUPS IN OVERFLOW
This SelfCare Revolution will continue to focus on YOU and filling your cup, and also using the overflow in three key areas; the ones we believe will solve many future challenges. These are: Education, Women and Children.
The Clinton Global Initiative (CGI), along with the United Nations shows that around the world, girls and women continue to suffer from a lack of economic opportunity, inadequate healthcare and education, early marriage, sexual violence, and discrimination.
But the great news is that empowering girls and women yields life-affirming returns for everyone. Educating young women increases a country's gross national product—and the benefits are shared by boys and men. CGI reports that
"When women work, they invest 90 per cent of their income back into their families, compared with 35 per cent for men."2
We know that by taking care of women, they'll take care of many others.
We aim to help more women, girls and children have overflowing cups. Imagine the world then. It's time to move from masculine energy to a more inclusive feminine energy, one that empowers more nurturers to co-create nourishing communities and protect Mother Earth.
SUMMARY - THIS IS OUR WHY
This is WHY we are truly here. Simon Sinek shares that "true purpose is human" and inspires every human being and conscious enterprise to "start with why," not the what and the how.
Helping you go first and helping the people you care about is our why.
Imagine a world where everyone lives in abundant overflow, looking after their families, friends and communities. If we all did just this ONE thing, together we can positively impact the narrative for future generations through our actions, not just through words and policies. Imagine a world where we all thrive together co-creating nourishing environments, supported by communities of high-vibing humans with one common goal. One person can make a difference!
If we ever meet in person one day, you can ask me why this work is important to me, and I will openly share what led me to this point.
Let's uncover you're why and maybe you can share that with me one day too! And if by chance, we share a similar mission, let's work together!
CALL TO ACTION
6 STEPS TO HELP YOU UNCOVER YOUR UNIQUE WHY
Before we go deeper, let us remember that true purpose is human; bliss moments are our greatest guide, happiness is the purpose of life and you will know you have found you why when it ignites an emotion.
You will cry. That's when you know your why.
Why do you get out of bed each morning?
Why should people care, why do you care?
What moments made time stand still? Why were you doing them?
What past experiences created a feeling of bliss and inner peace? Why were those moments important to you?
What past experiences created pain, trauma and challenged your shadows?
Why do you want to share these lessons with others? Why is this a driver for you?
What are people naturally attracted to you for? And why do they feel that you are the go-to person to solve that problem? If you find an answer, try this:
Go deeper and ask yourself—"Why is that important to me?" Do this 12 times and keep digging deeper. If you get stuck, try adding "so that" to keep the thoughts and feelings flowing. Once the answer creates an emotion (e.g. you cry), you will know your why. Once you have found it, use that to guide your decisions and expressions.
Uncover your why and give it to the world. One person, one family and one community at a time.
REFERENCES
This is directly referenced from the best-selling amazon SelfCare Book "Lifestyle Medicine For the People" by Rory Callaghan.  If you would like to read more content like this. Grab the free online chapters of the book or a hard copy.
We have done our best to reference everyone's expert opinions, peer-reviewed science, and original thoughts, all references available here and referenced in the text.
We also understand that most thoughts are not our own and there is a collective unconsciousness, unconsciousness, and universal mind stream of energy that is always at work.  How are references are sorted and filtered is here.