Hey friends!
To celebrate the launch of the SelfCare Book with family and friends in Australia and more recently in Bali. I thought we could all kick into action together and have some fun whilst we do it. This is the simplest tool I could give you after an 8 year journey, distilled into 8 days and 8 simple steps. If you would like to join in, follow the three simple steps below :)
3 steps to join the 8 day Self Mastery Challenge
Step 1 : Join the community and tribe for accountability and inspiration
Step 2: Enrol in the 8 days of Self Mastery Guided Course
Step 3: Check your emails and login in each day to take one step at a time.
What's In it for me?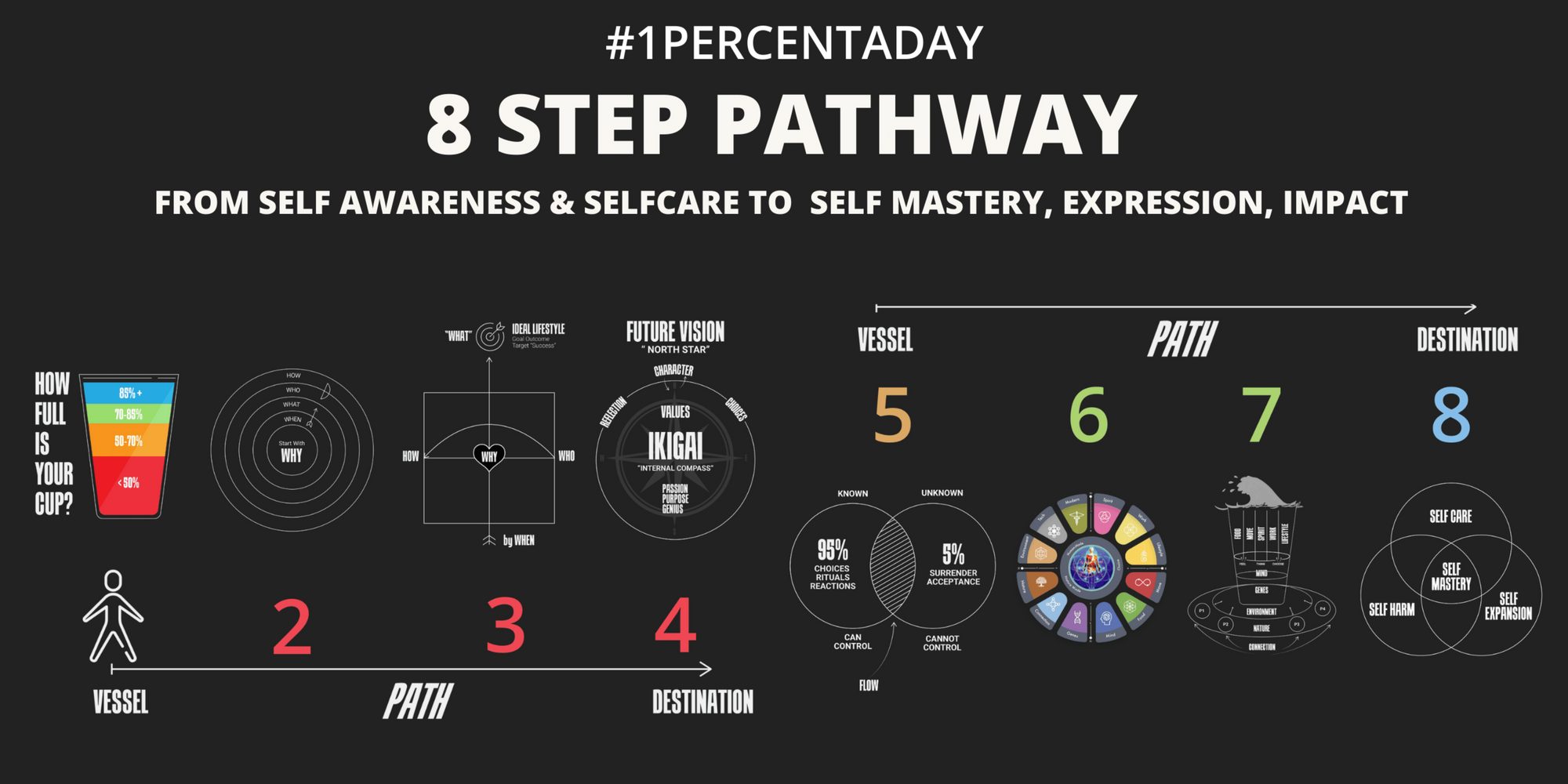 LEARN, DO, EMBODY, BE in 8 Simple Steps
SELF ASSESS - 4 Zones of Health & Wellbeing
2. WHY - Start with the HEART. Why will this time be different?
3. WHAT BY WHEN - Create a MEANINGFUL GOAL
4. ALIGN with your TRUE NORTH & Future vision
5. Set your own STANDARDS and allow for HEALTHY MODERATION
6. SELFCARE & The 12 MEDICINES
7. The FILLYOURCUP METHOD & Personalised pathway unique to you
8. SELF MASTERY- Build by 1% Per Day
Why join the challenge?
When I was 26 years of age I had my dream job, but lacked my dream life.
This might relate to you right now too. At the time I felt.....
A little lost, even thought I was doing everything I was taught to do
Deep down I wasn't stoked, fulfilled or happy
I lacked direction and purpose
I was burnt out, but doing something I loved
I lacked the energy and drive to get out of bed each morning
I felt disconnected from myself, the people I cared about and the world around me
I knew there was something more aligned for me, but didn't know how to get there.
I witnessed people with less skills and talents, living their dream life with more abundance. I wanted to figure out how I could find that for myself
I was stressed and overwhelmed by the complexity. I knew what to do, but for some reason wasn't prioritising myself or embodying it.
I was putting the needs of everyone else before my own.
I looked healthy on the outside, but on the inside, my systems were running on empty. Relying on coffee and external vices to keep going.
If this relates to you in some way, then know there is a path and solution for you too. This 8 days is a simple 4 step formula that I used and refined over the last 8 years. If there was one thing I could share with everyone, it would be this.
It's not designed to add more to your day. It's designed to inspire you to allocate 1 hour of your day to you in a guided way for 8 days, then to keep that going after you finish. Allowing your morning routine to evolve and grow as you do too. It's something that is flexible and adaptable to any environment and any stage of life. It's something that I review and renew every year. Something I can reflect back on and use to celebrate myself every step I take. I hope this is the same for you too.
When is the Next Challenge?
Enrol by: March 1st - March 5th 2023
Start date: March 6th 2023
Finish date: March 14th - 30th.
I understand that not everyone will do it religiously in 8 days. It's ok if it takes you 10 days, 17 days or even 30 days. The point is to finish the 8 steps. Building from one step to the next. If you can commit to yourself, your path and your daily ritual. I still reflect on 2014 when I first did this for myself. It led me to where I stand today.
Direction is more important than speed and "Most people overestimate what they can do in one year and underestimate what they can do in ten years." Simply focus on building by 1% a day for 12 months and you will be 37x ahead of where you started today. One committed decision to commit to ourselves, is the most powerful choice we can ever make. Enjoy!
* If you have a coupon from one of our events, use it at the checkout page
Here is a gift for you, if you don't have one already: "FIRST111"
This is a code you can use until the first 111 students are enrolled. Don't miss out on this opportunity.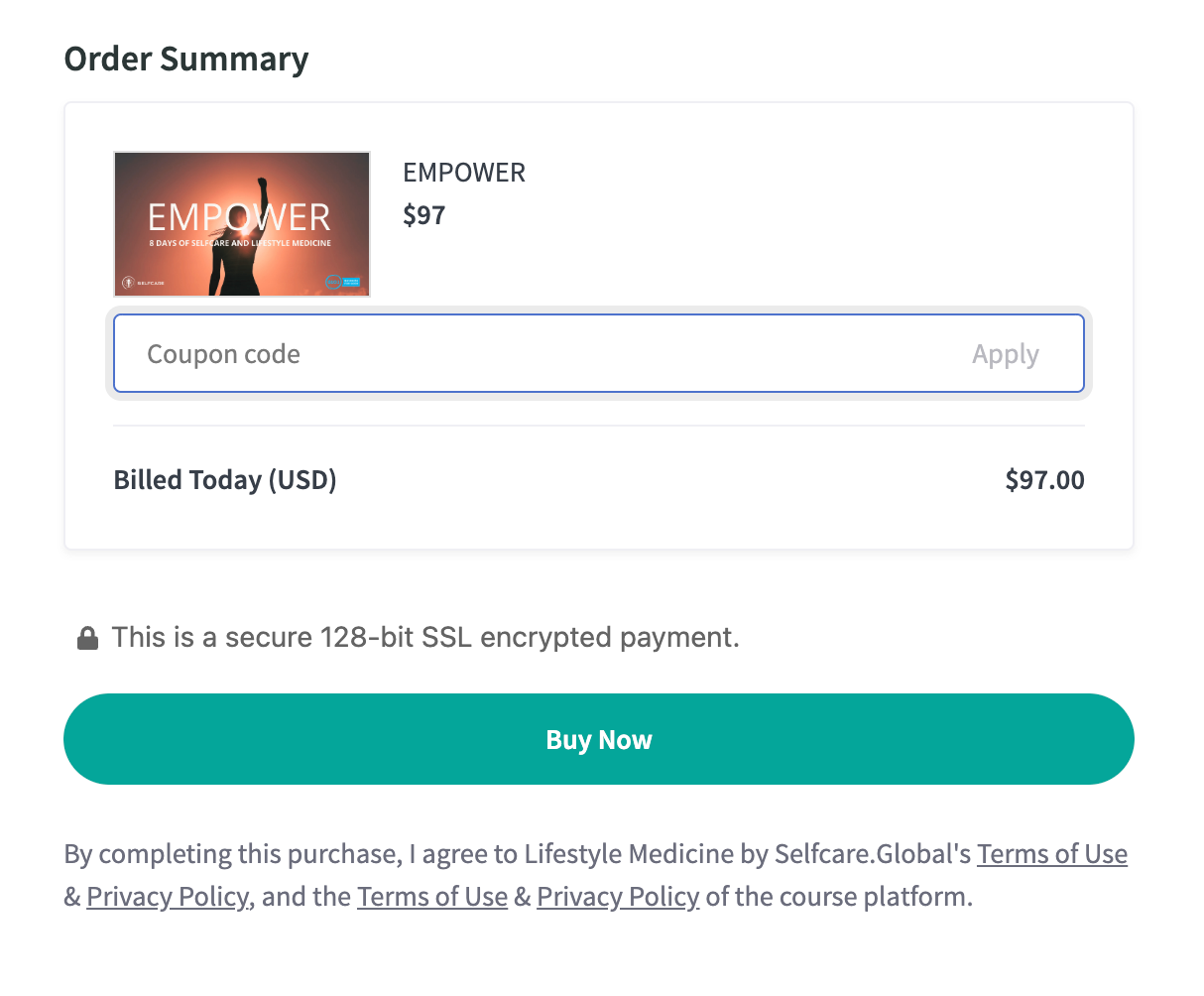 How Does it Work?
What if It was super easy? All you had to do is Enrol, check your email each day, click on the link. Put 30-60 minutes aside each morning and allow yourself to be guided. Well it is :) and this is what it looks like. Also, all the quizzes and results are sent to your email, so that you can review/renew your answers every step of the way and even in a years time....  
Imagine looking back on your future vision in 12 months time and highligting 80% or more of it in green, meaning that an idea you had, has now manifested into your reality 12 months later. This is something I do every year and each year, what I script as the director in my own life play, becomes more and more real. So be careful what you call in and put down!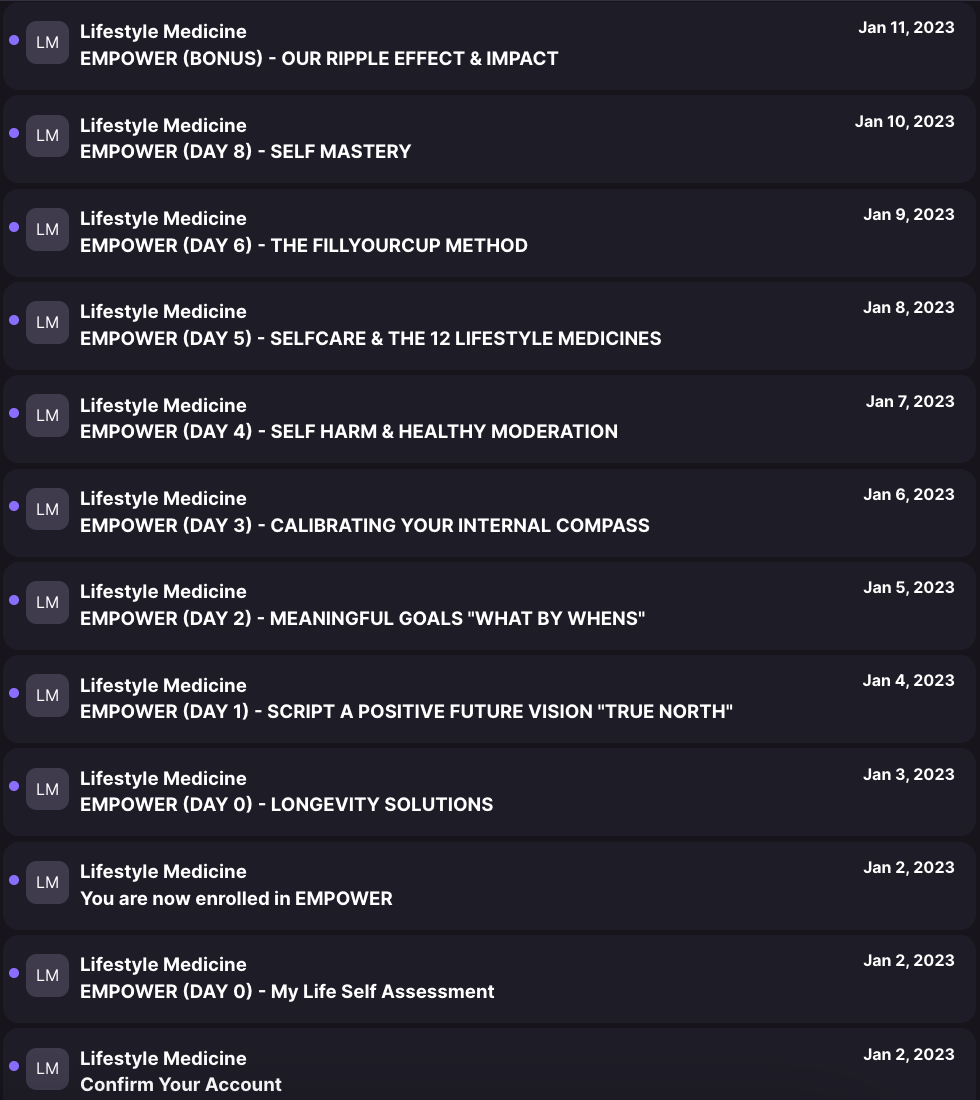 BONUS: 30 days of 1 on 1 mentoring
If you would like to have me as a co-pilot for your first 30 days, then add this bonus on and we can organise a weekly call to personalise the experience on a whole new level.
8 days is enough to pivot the needle back in the right direction. It takes 21 days to start forming your first sticky habit and 120 days to create a lasting lifestyle change.
This is the same process I followed for 8 years to get to where I stand today. All it took was one moment and one choice to change everything.
I went from being a burnt out health professional, without my health, unhappy and disconnected. To living a fulfilling life, filled with passion and purpose. Not to mention an empty calendar and enough resources to self fund passion projects like this. I want you to feel, what it feels like to do the same.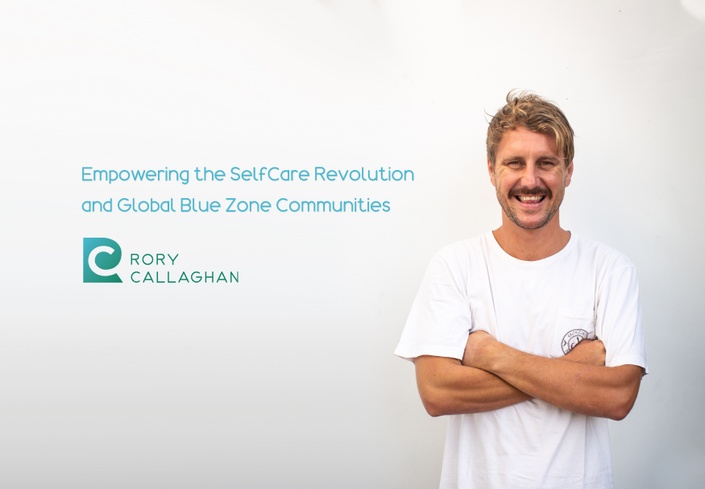 Big Love,
Rory Callaghan
Founder & CVO of Selfcare.Global